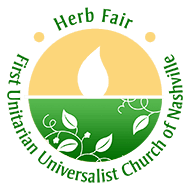 Times and topics
April 20
Saved by Love
The Rev. Gail Seavey and Cynthia Stewart
The Universalist path toward wholeness calls us to love this world. We celebrate Easter today inspired by Universalists who honored the life of Jesus for teaching us how to love Love itself by loving our neighbors and ourselves.
April 27
Saved by Spring
The Rev. Gail Seavey, the Rev. Jason Shelton and Marguerite Mills
Young and old alike are made whole after a cold winter by celebrating spring-time rituals. We participate with the rest of nature as we nurture growing seedlings, feel awed by the beauty of blooming flowers, create colorful garlands and joyfully weave ourselves into the great web by dancing around the May Pole.

Online Shopping to Support Our Church
Items of interest from the staff, committees and the board